Hi guys! I miss my blog and I haven't visited other blogs as well. I miss commenting on your blogs my dear readers!
Anyways I received a small gift from a friend and this one looks like the same from my First Blog Giveaway!
It's Nyx One Night in Luxy. It's a Glitter Cream Palette, consists of 5 different colors. I'll be giving you the swatches. And no this is not a review because I'm not good on reviews, forgive me haha! Here are the photos I took with my Cellphone's Camera. Sorry if it's not a good quality photo.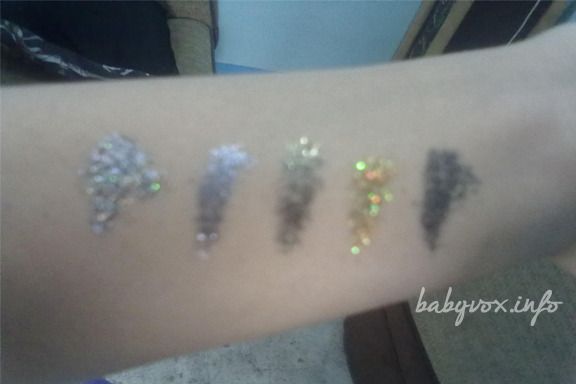 From L-R:
It's a light gray glitter color, dark gray color, some kind of dark green color, a gold color and a black glitter color. (Did I say make sense? LOL)
Anyways as I don't have any makeup brushes with me I don't want to use them yet.
Okay remember the Black Wedge I recently blogged about?! I just bought it now from Ebay! Well will be waiting for it til next month! I was thinking when will I receive the Contact Lens from the sponsor. And also my beanies! June 23 is sooo long! 🙁
Okay what's happening right now with me. This week niepao's supposed to be enrolled. But his fucking school won't release his Form 137. The other day we supposed to enroll for whole day when he go to his school, it says it'll be on morning when you need to get the effin' Form 137. And then we let it go and decided to visit it the next day. Then Mama text us that it will be 1 week before they release the record. I saw WTF?! Really 1 WEEK?! Next week is the start of the classes. We already have a request from AMA and they also included that it's URGENT to have the record. Fucking school registrar really got into my nerves. And today we will go again to their house because it's his Lola's birthday so I don't know if they got it or what. So everything is really messed up. Niepao doesn't still have a shoes and uniform! I can't buy the cloth for his uniform because I don't know what kind of fabric his school have.
I wish everything will be okay or else I'm so fucked up. :/
Btw I just finished installing Faith's Theme. I hope she will use it asap so I could take a screenshot of it and add it on my Portfolio.
Again, don't forget to hit share, G+, Like and Tweet exchange! 🙂